Bowling Comes to The Four Kings Casino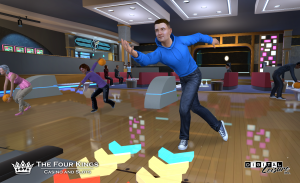 One of the most requested games has come to the casino!
Bowling Alley open in the Nightclub!
You've caught a glimpse of our Bowling Alley behind the "Coming Soon" sign in the Nightclub. With this update, you can now go inside and get the balls rolling! Bowl a few games with up to 5 other players to test your skills and win some chips. It's a whole new way to have fun in the Four Kings!
Custom Bowling Balls
Every great bowler has their lucky ball and we're giving you plenty to choose from! Select one from the range of included balls, or pick up one of our premium bowling balls at a great price. It's even more fun knocking pins down with a planet, a basketball, or a happy face!
New Bowling Items
You wouldn't want to hit the lanes without looking the part! There's an all-new store inside the Bowling Alley and a total of 8 fresh items to add to your wardrobe, from shoes to shirts to a retro 50s hairdo.
And there's MORE!
Skilled bowlers can aim for the 3 new achievements and 7 new reward items we're launching with this update. Can you bowl 3 strikes in a single game? Or get the elusive perfect score of 300?
Happy Bowling!